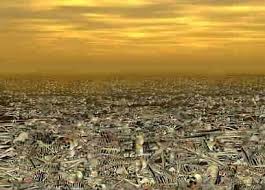 Have you ever felt hopeless, full of despair, and spiritually dried up? Maybe you have felt disconnected from family, friends, or society as a whole. I would like to draw your attention to Ezekiel Chapter 37.

This is a popular passage that talks about the valley of dry bones. We will not delve into the background of this passage. Rather, we will focus on one phrase, which is found in verse 11 of Chapter 37.

"Then he said unto me, Son of man, these bones are the whole house of Israel: behold, they say, Our bones are dried, and our hope is lost: we are cut off from our parts."

"Our bones are dried, and our hope is lost: we are cut off from our parts."

Further reading of this passage reveals that the bones were void of tendons, muscles, flesh, breath, and all other components necessary for a living body. To make matters worse, the bones were even disconnected from each other and likely scattered abroad in no skeletal order.

The New Testament reminds us of the importance of the body. Romans 12:5 says, "So we, being many, are one body in Christ, and every one members one of another." The MSG translation states it this way:

"Each of us finds our meaning and function as a part of his body. But as a chopped-off finger or cut-off toe we wouldn't amount to much, would we?"

The bones didn't amount to much because they were cut-off from each other and lifeless. Similarly, you cannot fully function without a church body, and the church body cannot fully function without you. Sure, you can still exist. After all, the bones still existed. Yet, they were lifeless.

The devil would like nothing more than to tear you apart limb from limb, eat away at your flesh, and leave you as a lifeless pile of dried up bones. The good news is that you are still alive and breathing! You have the ability to fight back. Yet, you cannot do it alone. Plug yourself into God's Word and the church. You will find that the fight is much easier when you have all of your parts!